Are Vaer watches Made in USA?

Updated by Vaer Watches
Many Vaer Watches have over 60% USA origin, including assembly, movements and straps. However, this is not enough to qualify for the term "Made in USA".
Currently, Vaer watches are assembled in the USA, but not made in the USA. Which might sound a bit confusing. To better understand the difference, the first thing we should figure out is:
What does the term "Made in USA" really mean?
The 'Made in USA' label is a country of origin designation that is regulated by the US Federal Trade Commission, that indicates that the product is "all or virtually all" made in the United States. In 1996 the FTC proposed the following requirement regarding the 'Made in USA' mark:
"It will not be considered a deceptive practice for a marketer to make an unqualified U.S. origin claim if, at the time it makes the claim, the marketer possesses and relies upon competent and reliable evidence that: (1) U.S. manufacturing costs constitute 75% of the manufacturing costs for the product; and (2) the product was last substantially transformed in the United States."
However, this proposal was never officially adopted, and the United States still has no official percentage of cost requirement. This is not completely unusual, as other advanced manufacturing nations, such as Germany, also have vague requirements. Below is a breakdown of some of the different "country origin" rules for leading export-driven nations.
"While source origin requirements and formal origin claims play a role in choosing a product, they don't always tell the whole story. From our perspective, the fact that every purchase of a Vaer watch contributes to more US jobs is what really matters - from our assembly technicians, to our leather-makers, to our warehouse team, we're doing our best to make sure that our supply chain is truly contributing to creating more quality jobs here in the US."

Ryan Torres, Vaer Co-Founder
Source Origin Requirements by Country 
Made in USA: "All or virtually all"
Made in Germany: "All essential manufacturing steps"
Made in Japan: "60% of product value, and final assembly"
Made in Switzerland: "65% of product value, and final assembly"
Made in Italy: "100% of product value, and final assembly"
The FTC website provides numerous examples of products that would qualify as being "Made in USA", but, as of 2019, there have been no further legal clarifications of explaining exactly what "all or substantially all" means. Unfortunately, this has created room for brands to exploit consumer confusion around the designation. In 2016, the FTC ordered Shinola Watches to stop using "Where American is Made" and "Built in Detroit" as slogans pointing to the fact that their movements, dials, hands, cases, crystals, and buckles are sourced overseas.
Does Anyone Make Watches that are Made in USA?
If you were to ask an average consumer to name a watch brand that's Made in America most would point Shinola as the lone example. Unfortunately, as detailed above, this is incorrect. Shinola Watches (owned by Texas-based conglomerate Bedrock Brands) are assembled in Detroit from Asian parts. They have no right to claim Made in USA, and their decision to engrave "Built in Detroit" on their watches, is just one of many examples of why they've been described as America's Most Authentic Fake Brand.
The challenge for Shinola, and Vaer, and every other American based watch company, is that in order to produce a watch that is truly Made in USA, you have to figure out how to manufacture a lot of very small, and very complex, horology-specific components, without any scalable state-side infrastructure. While the United States once boasted a flourishing watchmaking industry (some of the first mass-produced pocket watches came out of factories in New England), like many USA-manufacturing sectors, American horology suffered a steep decline and eventual demise during the second half of the 20th century.
US Watch Companies That Off-Shored Production
Timex - One of the largest American watch brands, Timex ended a long history of their American manufacturing and assembly in 2001 when they moved their factories to the Philippines. The company is currently headquartered in the caribbean tax haven of Curacao.
Hamilton Watch Company - Today, Hamilton is a Swatch group subsidiary based in Bienne, Switzerland. What many do not know is that Hamilton originated as an American Watch company back in 1892 in Lancaster, PA. They were acquired in 1974 and the last of their operations shifted from Pennsylvania to Switzerland in 2003.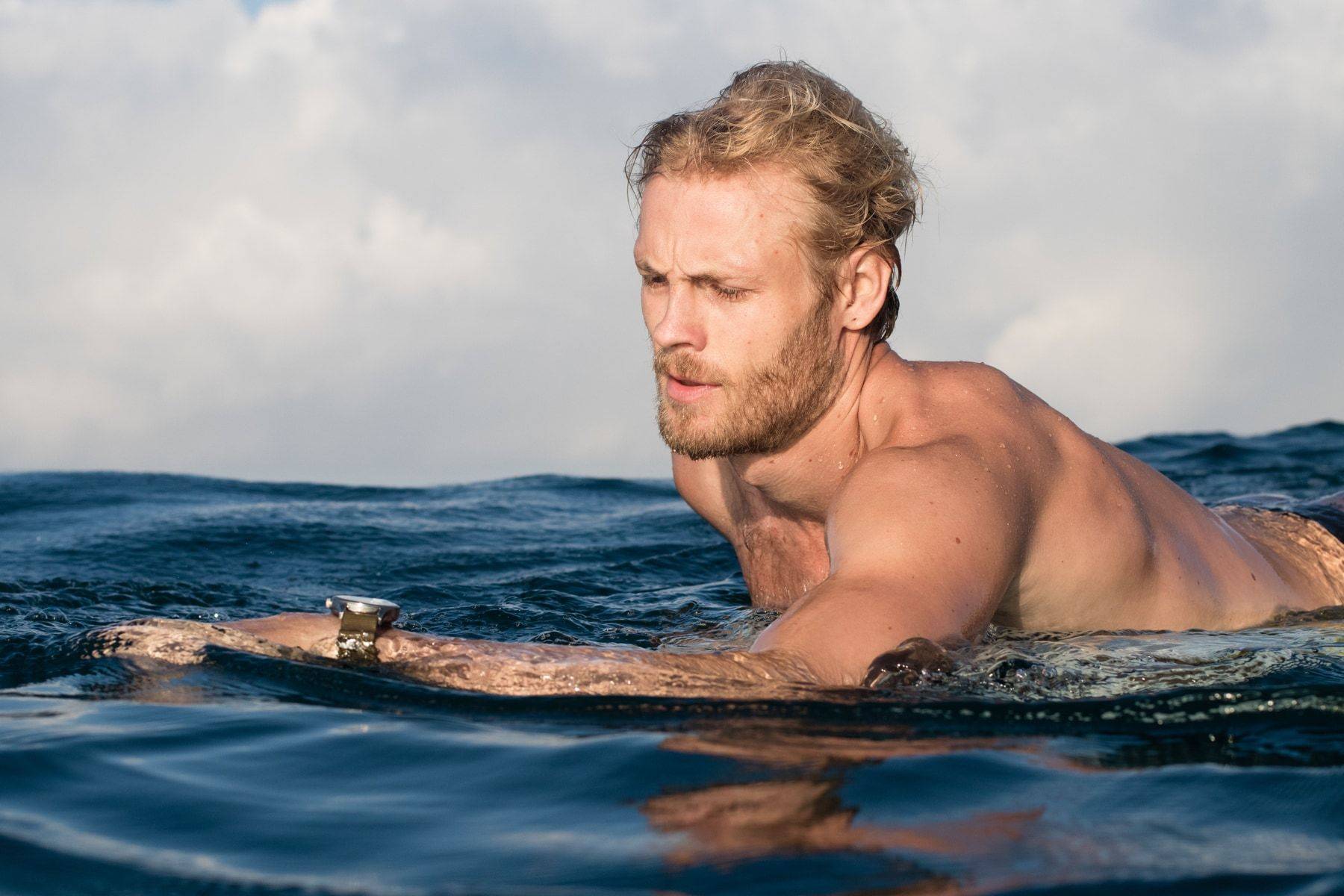 American Assembly is an important differentiator for Vaer, but it would mean very little without consistent excellence in build quality, and aesthetics design.
What's the biggest challenge of USA Made Watches?
Unfortunately, a reliable, affordable supply chain for watch components and movements in the United States is largely non-existent. While a lot of brands out there trying to market themselves as American Made, only a few live up to the claim.
In order to make the Made in USA claim, these brands are building in-house movements and producing nearly all of their components themselves. This is a labor-intensive enterprise, requiring major technical and monetary investment - which as a result means a much more expensive watch - generally starting over $2,000.
Will Vaer Watches Ever be Made in USA?
There are currently no American companies producing watch movements at scale. For this reason, the majority of our lineup relies on Swiss and Japanese Made quartz and mechanical movements. Our choice of using a Swiss Made movement disqualifies us from a Made in USA or American Made claim. This is regardless of where the remainder of the components are made. Beyond our use of Swiss Made Ronda movements, the majority of our remaining components such as dials and hands are manufactured in Asia - we've spent years vetting these partners for quality, and our components are the best available for a sub-$1000 wristwatch.
"We are going to continue to push the USA source origin percentage as high as we possibly can. As of 2020, we're moving forward with a test of a new range of USA-built quartz movements, from Arizona-based start-up FTS. With this upgrade, our quartz watches would exceed 65% USA cost of goods, which is the same percentage requirement that allows watches to be labeled 'Swiss Made."

- Reagan Cook, Vaer Co-Founder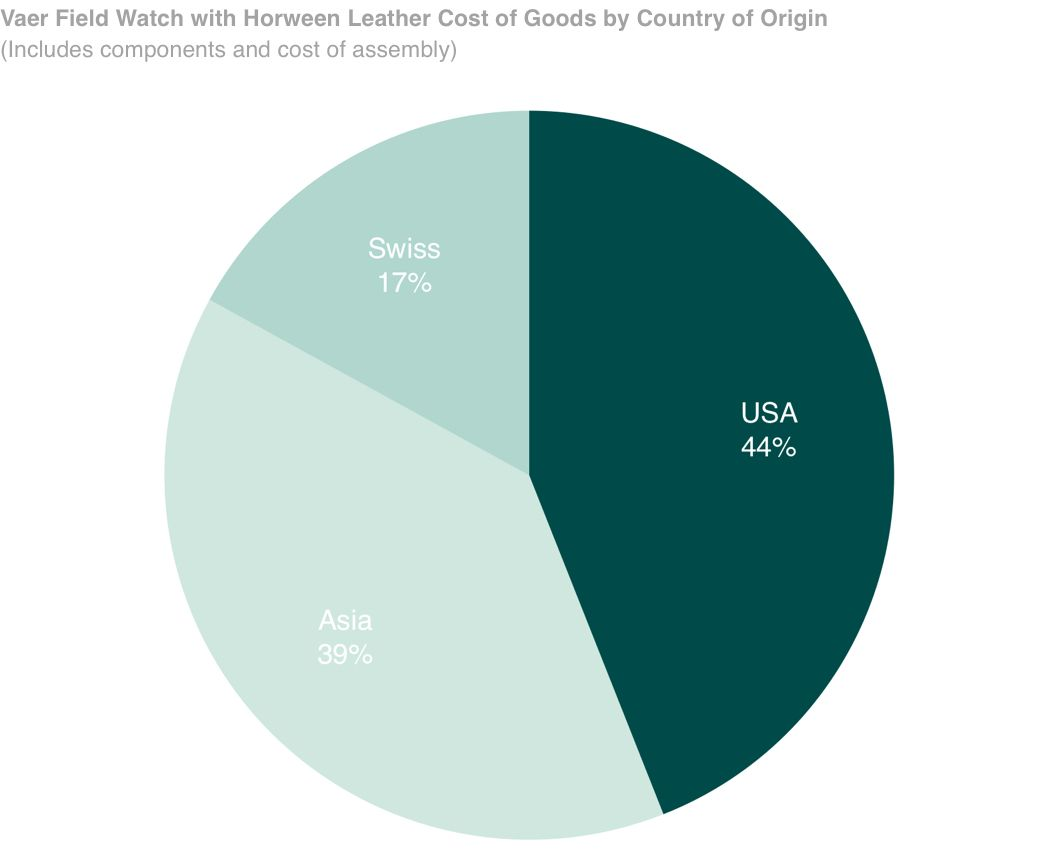 When building our brand and product, we wanted to support as much US-based business as possible while still offering a watch that anyone could afford. We're proud of our global supply chain and firmly believe that our component partners (whether they are in America, China, or Switzerland) are among the very best in the watch industry.
We're constantly working to bring more of our production over to the US while still maintaining a balance of quality and price. In addition to full US assembly, all of our leather straps are Made in the USA, and tanned in Chicago from American leather. In the future, we'd love to offer an American Made watch, and so we've started to explore the possibility of using more US-based components, whether that would be purchasing expensive American-made mechanical movements from a brand like Weiss, or partnering with a US-based quartz movement startup like FTS Ameriquartz..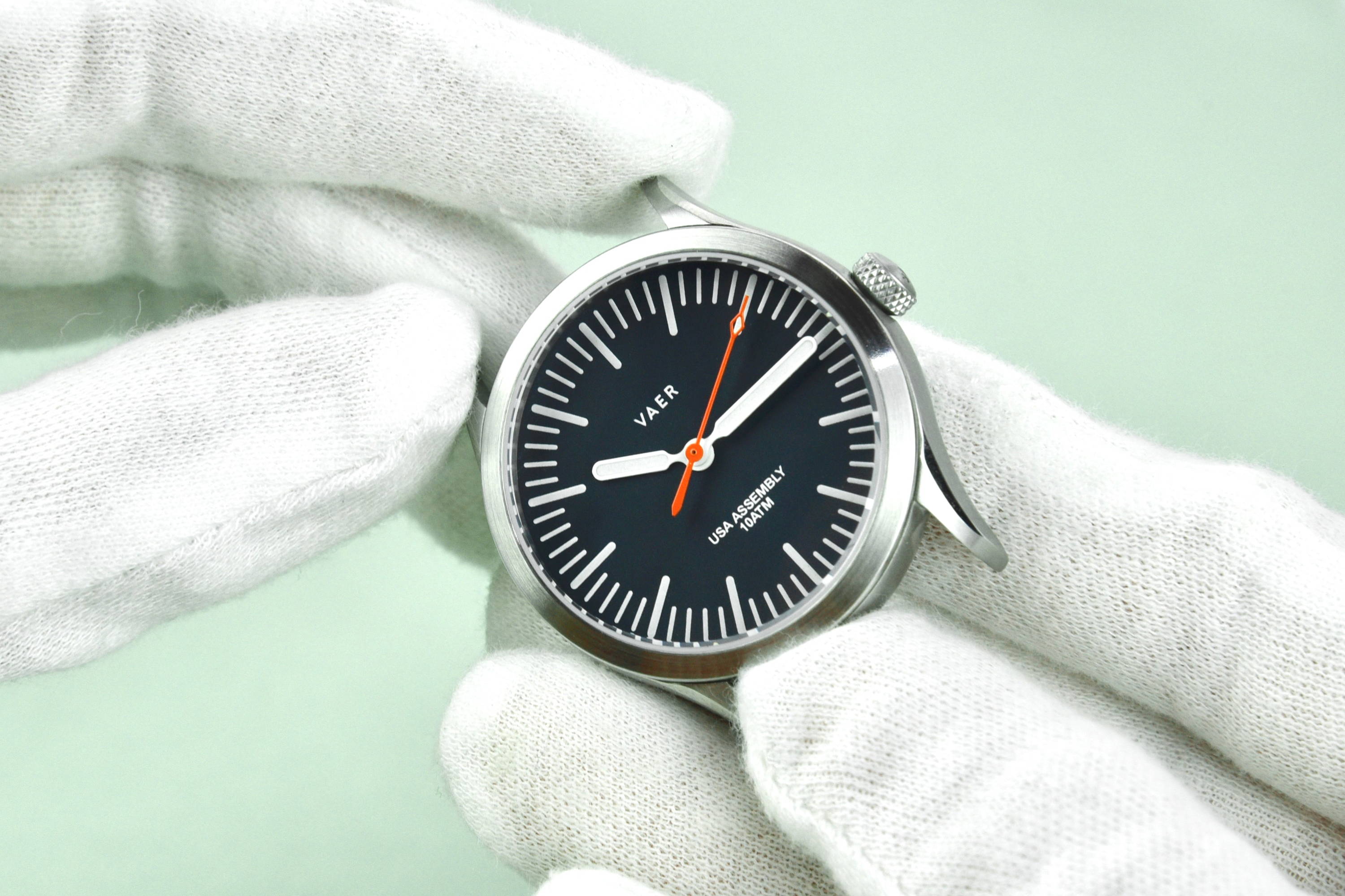 Beyond a powerful marketing slogan, American Assembly has allowed us to better understand our products and continuously improve the design, durability and longevity of our watches.
Does American Assembly Matter? 
From day one we've been committed to the goal of supporting skilled craftsmanship and local production in the United States. It's not the easiest route, and it's definitely not the cheapest, but it's something we firmly believe in.
When we chose to move our assembly from China over to the United States in 2017 it was not because of quality or functionality (Chinese factories assemble hundreds of millions of watches per year and they know how to do it quickly and efficiently). We decided to move to complete American assembly (despite huge increases in cost) because we firmly believe that the greatest opportunities for growth as a watch company is in the promotion and maintenance of human skill and craftsmanship.
It's also given us a much closer connection to our product, which has yielded product design improvements that we never could have imagined. While we aren't skilled enough to put together a watch ourselves, we love hanging out in the shop, brainstorming with our build team on how we can streamline the assembly and improve the functionality of our product. A lot of the changes made from our V1 to V2 watch spawned from working directly with our assembly team here and identifying areas where we could improve the watch case, dial positioning, movement, and hands.
Summary 
The question of what Made in USA means is a complicated one.
Given the current FTC guideline requiring "All or Virtually All" and the general decline of USA manufacturing over the past 40 years, it's generally safe to assume that nearly all American sourced products can be labelled as Made in USA with Global Materials - American cars, power tools, and watches would all fit in this category.  
If you're considering purchasing a USA sourced watch, here are the main things to keep in mind:
Nearly all USA watch options are American Assembly.
True Made in USA options are rare, expensive, lower quality.
Vaer is the only sub-$200 American Assembly option.
New US movement options will be increasingly available in the future.
We hope you enjoyed reading the article, and learned a few things about building watches in the United States. For more details on our watch straps you can visit the shop, or keep reading by clicking one of the article links below.